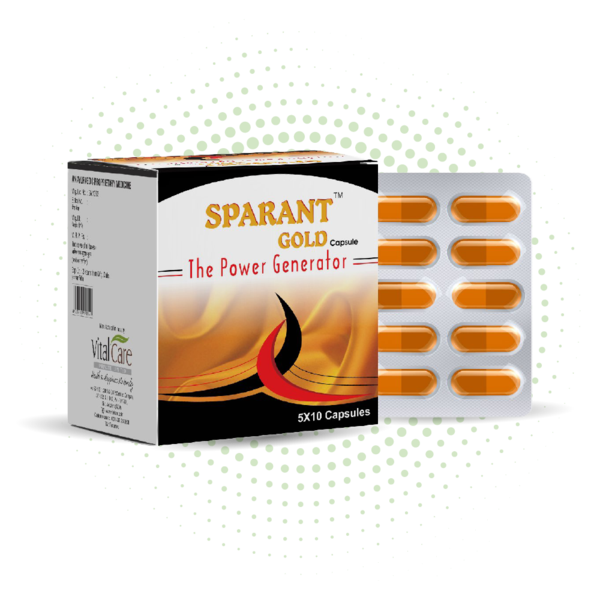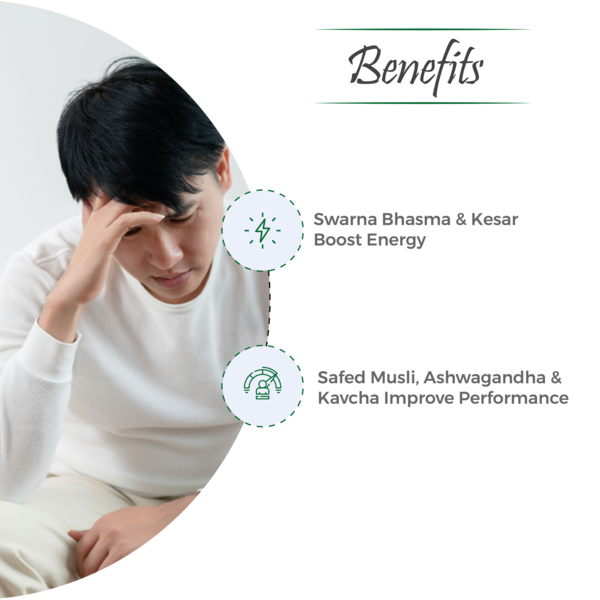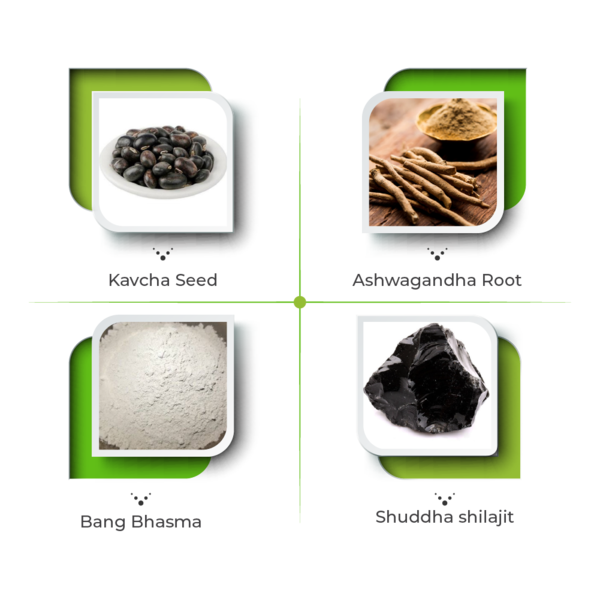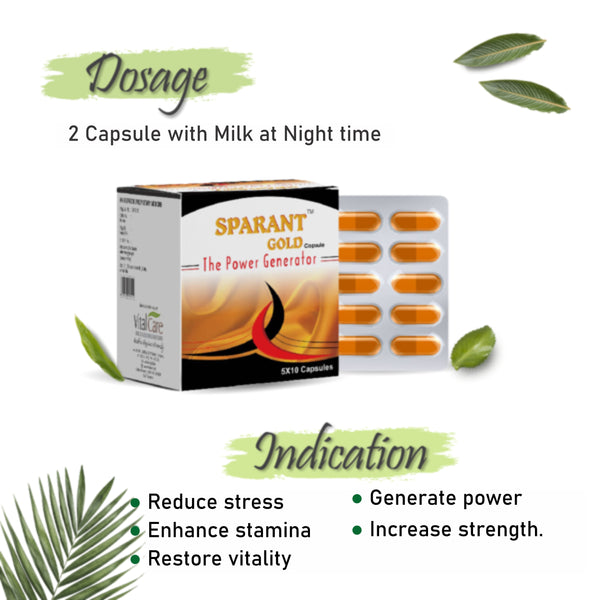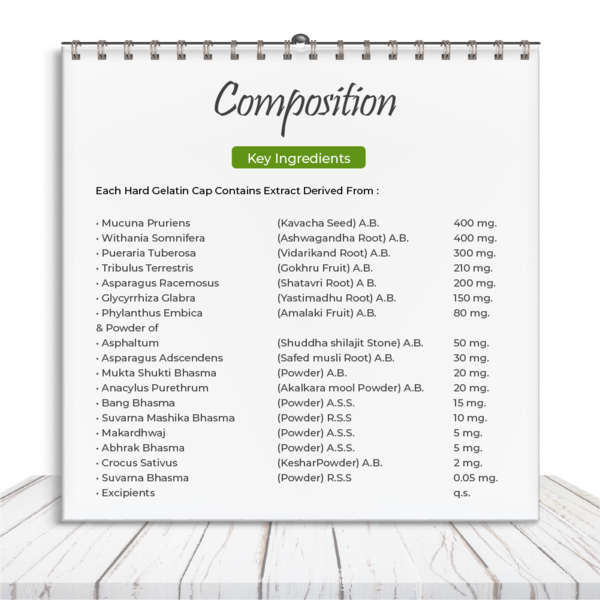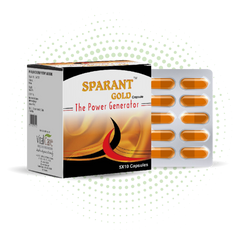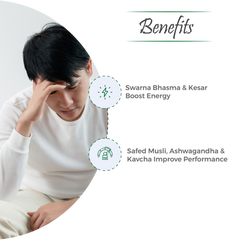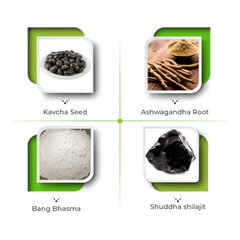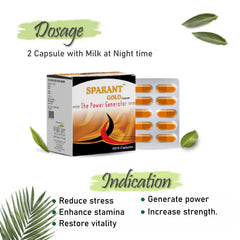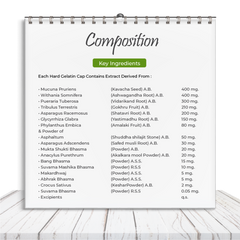 Sparant Gold Capsule – Ayurvedic medicine for erectile dysfunction
Ayurvedic medicine for erectile dysfunction
Sparant Gold is the best Ayurvedic medicine for erectile dysfunction which is formulated with natural ingredients. It is indeed the best medicine for erectile dysfunction which helps in improving the sexual health of men.
Sparant gold capsules are the best Ayurvedic treatment for erectile dysfunction and premature ejaculation to help in combating sexual health issues in men. This capsule helps in boosting sperm count and mobility which aids in better male fertility. This  medicine for erectile dysfunction by Vital Care is made of all-natural ingredients which help men to increase not just the quantity of sperm, but also the quality. 
Boost male fertility
One of the major goals of this ayurvedic medicine to cure erectile dysfunction is to improve fertility in men which is accomplished by increasing testosterone levels. It is made of excellent ingredients such as Pumpkin seed extract, Zinc oxide and Maca extract that help in increasing the sperm count in men. 
Enhance sperm quality and quantity:
By having a high sperm count only counts as healthy when the quality of sperm is also good. Men suffering from problem of sperm count can take the Sparant gold capsule, as it is one of the best Ayurvedic medicine for erectile dysfunction. This medicine consists of Lysine and NAC substances which help in increasing sperm quality by shielding the sperm from malfunctions and damages. 
Aids in sexual performance of male:
Sexual performance in men can be hindered hugely due to the problem of erectile dysfunction. The problem of ED is caused by the inadequate supply of blood reaching the penile area. Taking the right medicines like Sparant gold capsule which is the best Ayurvedic medicine to cure erectile dysfunction helps in increasing the blood circulation in the body. It consists of active ingredients such as Maca seed extract and Arginine which help in increasing the erection strength, and pushes for the production of ejaculatory fluid. 
Kavacha seedsIncrease nutrients to nerves & blood flow to genitals.

Akalkara Mool powderHelps for better performance.

MakardhwajaAn excellent nano gold particle-based preparation for longevity and an effective tonic to cure stress.

Suddha shilajitIt gives Aphrodisiac property in the male that helps reduce mental stress and anxiety.  

Bhang BhasmaIt improves stamina, vitality, power, and strength in man.
Herbal vitalizer controls stress
Improves stamina
Enhances strength and immunity
Restores a sense of well-being, energy & vitality
Dosage: 2 Capsules with milk at night or as directed by the physician.
Indication: Reduce stress, enhance stamina, restore vitality, generate power and increase strength.
| Ingredient Name | Qty |
| --- | --- |
| Mucuna pruriens (Kavcha) | 400 mg. |
| Withania somnifriena (Ashwagandha) | 400 mg. |
| Pueraria tuberosa (Vidarikand) | 300 mg. |
| Tribulus terrestris (Gokhru) | 210 mg. |
| Asparagus recemosus (Shatavari) | 200 mg. |
| Gycyrrhiza glabra (Yashtimadhu) | 150 mg. |
| Phylanthus emblica (Amalaki) | 80 mg. |
| Powder of : | |
| Asphaltum (Shuddha shilajit) | 50 mg. |
| Asparagus adscendens (Safed mush) | 30 mg. |
| Mukta shukti bhasma | 20 mg. |
| Anacyclus pyrethrum (Akalkara mool) | 20 mg. |
| Bang bhasma | 15 mg. |
| Suvarna makshika bhasma | 10 mg. |
| Makardhwaj | 5 mg. |
| Crocus sativus (Keshar) | 2 mg. |
| Suvma bhasma | 0.05 mg. |
| Excipients | q.s. |