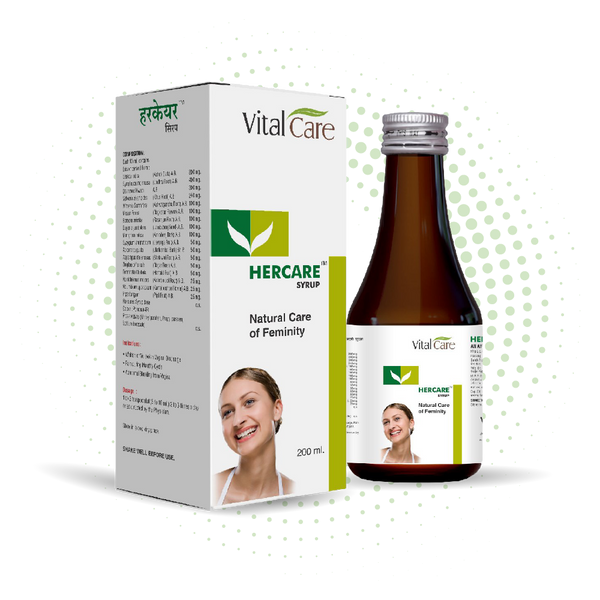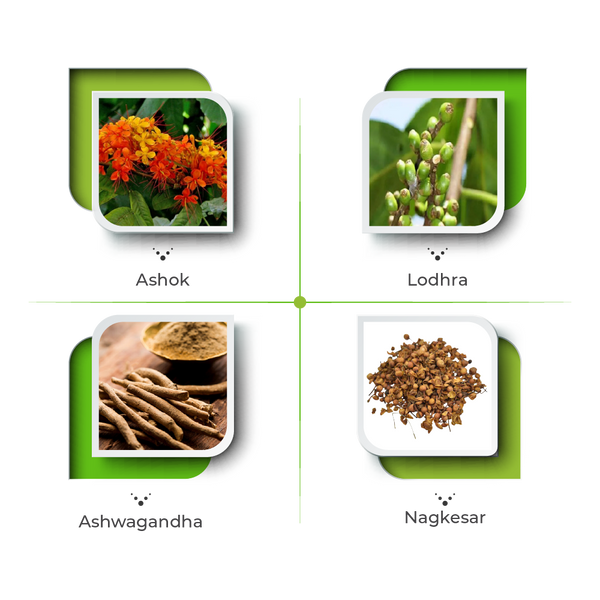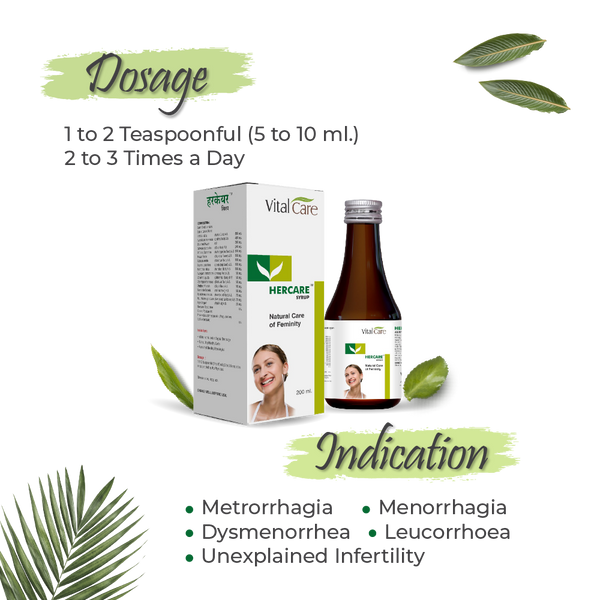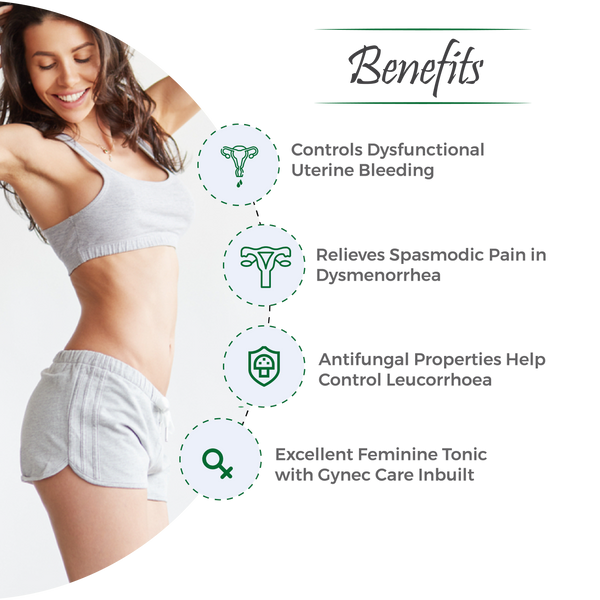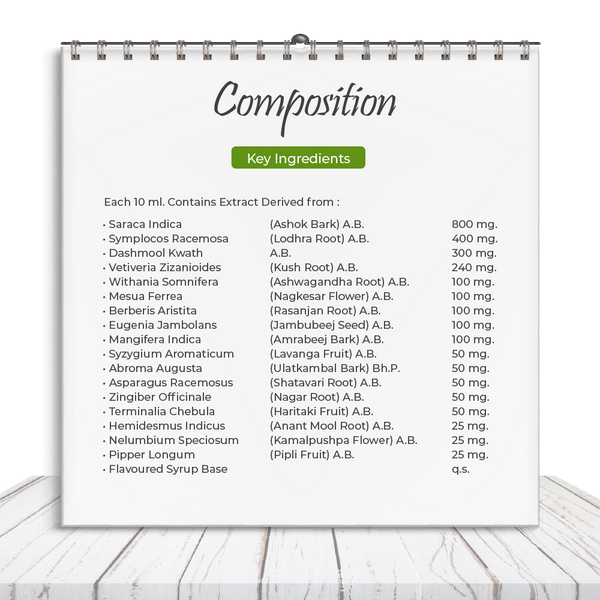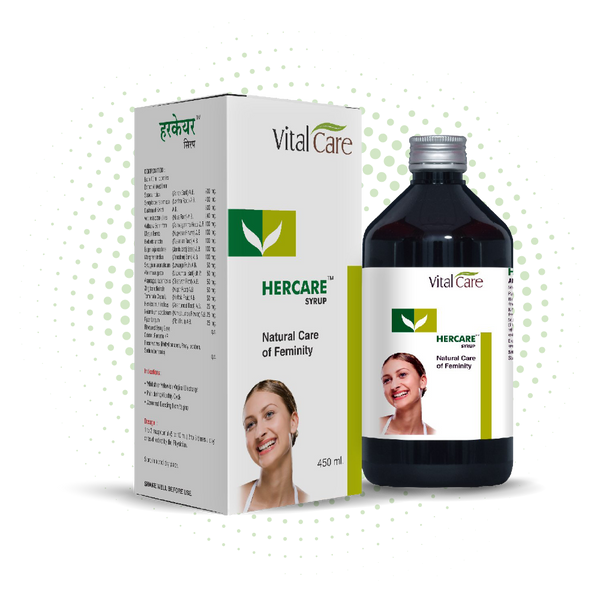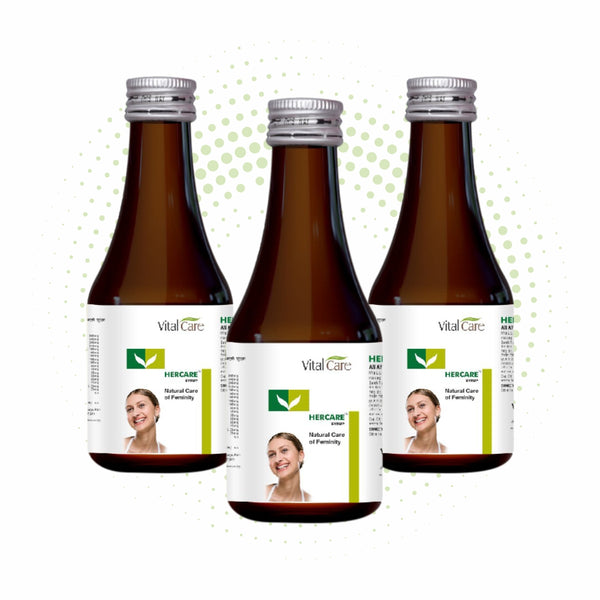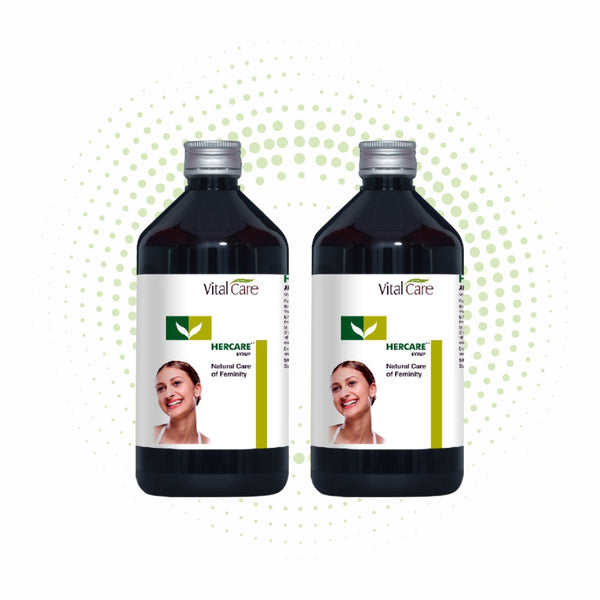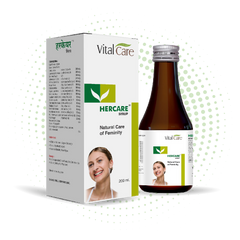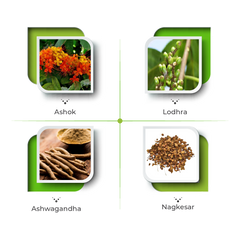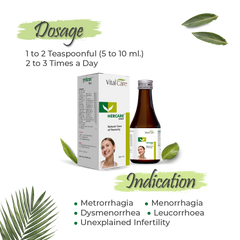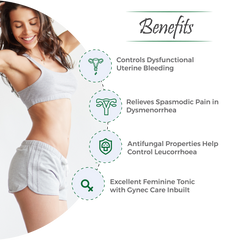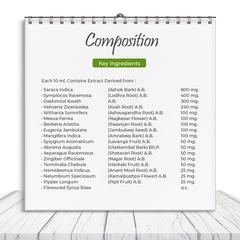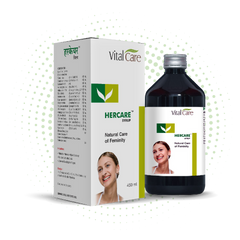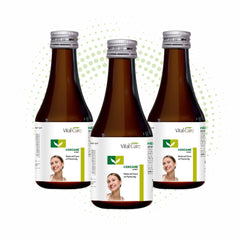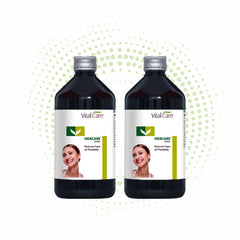 Hercare syrup is a formula developed by the Vital Care research and development team. It is a natural product for uterine health and can tackle many feminine issues such as uterine bleeding and can help ward off viral infections etc.
AshokWhich stop excessive uterine bleeding, menstrual pain and useful for other uterine problems

LodhraWhich stimulates serum FSH and serum LH level in body and also gives anti-microbial activity

NagkesarThe estrogen and progestin like compounds in Mesua ferrea might help to correct hormonal imbalance, which is an important cause of menstrual disorders

AshwagandhaAshwagandha also cures problems like Leucorrhea (Increase in Vaginal discharge), inflammation in uterus, pain in female intimate part due to infection, in curing infections and treating in sterility in females
Controls dysfunctional uterine bleeding (DUB)
Relieves spasmodic pain in Dysmenorrhea
Antifungal properties help control leucorrhoea
Dosage: 1 to 2 teaspoonful (5 to 10 ml.) 2 to 3 times a day or as directed by the Physician
Indication: Dysmenorrhea, irregular menstrual cycle, dysunctional uterine bleeding (DUB), menorrhagia, unexplained infertility and in leucorrhoea.
| Ingredient Name | Qty(in mg.) |
| --- | --- |
| Each 10 ml contains extract derived form: | |
| Saraca indica (Ashok) | 800 mg. |
| Symplocos racemosa (Lodhra) | 400 mg. |
| Dashmool kwath | 300 mg. |
| Vetiveria zizaniodes (Ushira) | 240 mg. |
| Withania somnifera (Ashwagandha) | 100 mg. |
| Mesua ferrea (Nagkesar) | 100 mg. |
| Berberis aristata (Rasanjan) | 100 mg. |
| Eugenia jambolans (Jambu Beej) | 100 mg. |
| Mangifera indica (Amrabeej) | 100 mg. |
| Syzygium aromaticum (Lavanga) | 50 mg. |
| Abroma augusta (Ulatkambal) | 50 mg. |
| Asparagus racemosus (Shatavari) | 50 mg. |
| Zingiber officinale (Sunthi) | 50 mg. |
| Terminalia chebula (Haritaki) | 50 mg. |
| Hemidesmus indicus (Anant mool) | 25 mg. |
| Nelumbium speciosum (Kamlpuspha) | 25 mg. |
| Piper longum (Pippali) | 25 mg. |
| Flavoured syrup base | q.s. |
| Color : Ponceau 4R | |