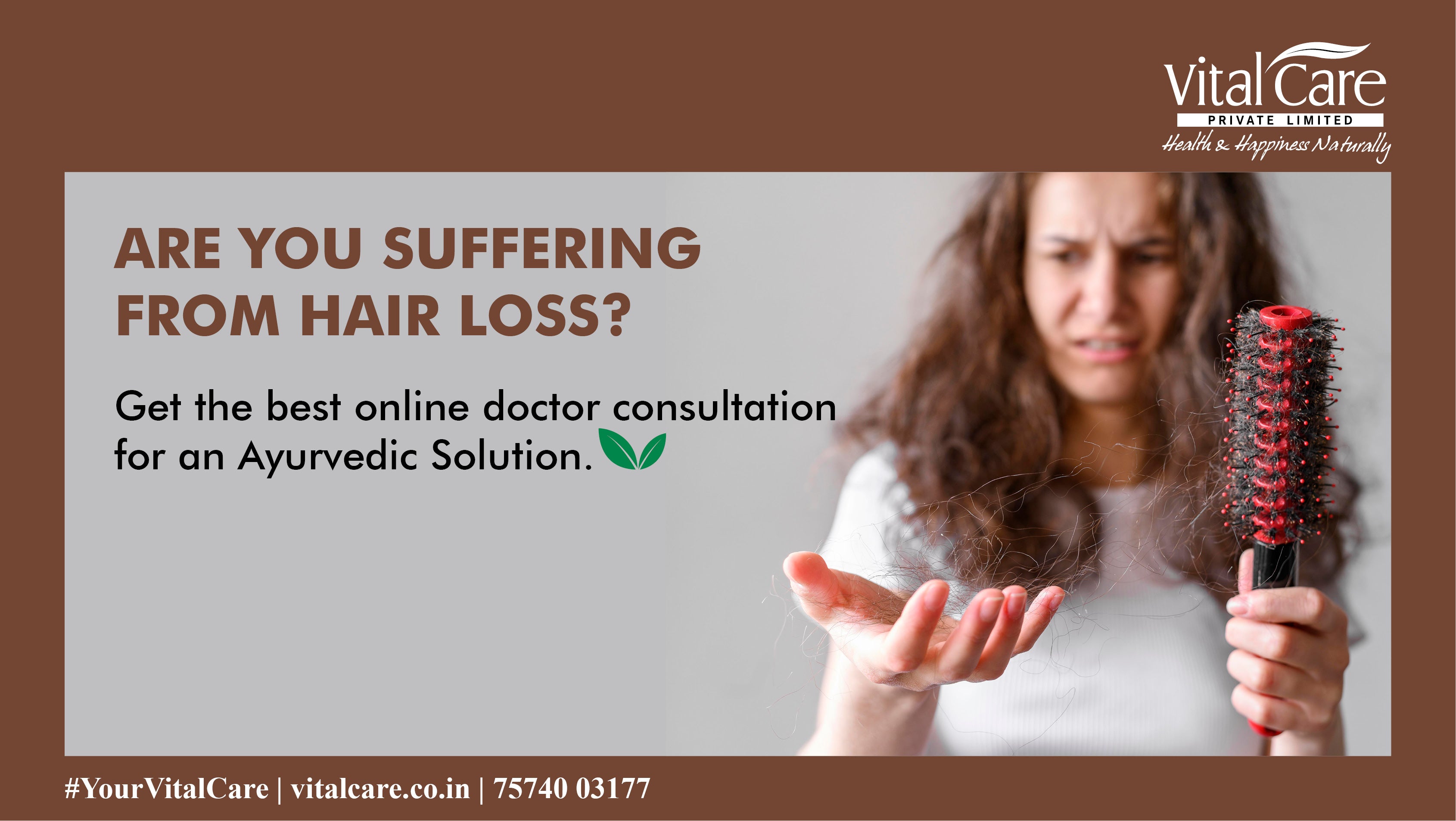 The late twenties are difficult years to accept new transformations. Suddenly, people start noticing changes in their lives. You might think that the most common ones are physical changes, but some people evolve mentally as well, for example, losing friends, new priorities, career, responsibilities, family issues etc. These reasons affect our physical beings. People notice physical differences like changing skin texture, back pain, and hair fall.

Losing an unusual amount of hair is disturbing. It is disturbing to find hair everywhere. And the situation gets worse when you start stressing about hair fall because the reason behind this issue is your stress, so the cycle goes on and on. As a solution, there are tablets, oil, hair care capsules, and shampoos with chemicals to get rid of hair fall. However, there is an alternative cure for hair fall. Ayurveda has natural and effective ingredients to resolve the hair fall issue. There are ayurvedic hair growth capsules, hair oil as well as shampoos for gorgeous hair.
What Are The Main Causes Of Hair Loss?
The primary six reasons for hair loss are:
Stressful Lifestyle:
Our daily chores have led us to a stressful lifestyle. Most people are always in tension about their job, money, career etc. We often forget to take care of our health. Stress can mess up your mental health. However, a result of it is seen in your physical health as well. Hair fall is one of the results of overstressing.


Workout without nutrition:
Gyiming, workout, keto diet, and intermittent fasting are trending nowadays. People are so conscious about their looks that they have forgotten what is healthy and what is not. Excessive workouts can ruin your health as well. A protein-rich diet is a must to balance the body. Not doing so can cause hair fall.


Family History of Hair Loss:
Hereditary hair loss issue is very ordinary. Most of the time, the heir has the problem of hair loss because of their family.


Irregular Sleep:
Our body clock is our physical way to communicate with us. You feel sleepy because your body needs to rest. However, avoiding the signals from the body may cause your health and hair loss.


Chemical Exposure of Scalp:
There are a million products for good hair. These hair products are according to hair type and even scalp type. There is a range of products that includes shampoo, conditioner, oil, serum, capsules and whatnot. These products contain harmful ingredients which can cause hair loss.


Underlying Medical Conditions or Ongoing Treatments:
Health issues can also be a reason for hair loss. It is advisable to consult a medical history with a hair consultant to search for the cause of hair loss.


Losing 50 to 100 hair strands in a day is considered normal. Nevertheless, losing more than that in a day is problematic. There are a few Hair Care capsules, Hair masks, gummies for good hair, and hair growth oil for women. Though, there are other remedies for hair loss.
What are the treatments for hair loss?
Home Remedies:
In a world full of keratin hair products, be a home remedy. Try some home remedies like applying aloe vera, a mixture of egg, henna, lemon, washing hair with buttermilk etc. There are many home remedies to stop hair fall and other hair problems.


Supplements:
A deficiency in vitamins, nutrients, and folic acid may cause sudden changes in hair health. There are supplements for hair on the market. For example, gummies for hair, capsules and tablets as well. Other than that, there are ayurvedic hair growth capsules that do not contain harmful taits.


Ayurvedic Medications:
Ayurvedic medications that include Neelibhringadi oil or amla oil can be used externally to cure hair loss. Any Rasayana medicine can help get rid of hair loss like Brahmi Rasayana or Chyavanprash. Amalaki Rasayana, Triphala Guggulu, Brahmi Ghanwati, amla powder, Triphala powder/tablet and aloe Vera juice can also alleviate hair loss problems.


Surgical Treatment:
If the hair problem is severe and supplements, remedies, or medication does not work, the expert may suggest a hair transplant.


Consult Doctor:
If you have sudden and extreme hair loss, do not wait or try various remedies without any consultation. Consult an expert doctor to cure your hair loss situation.


Vital Care presents the best ayurvedic hair oil for hair growth. Vital Care also provides free online consultation for your hair problems. We have an expert in beauty and Ayurveda with eight years of experience. Now you can consult a doctor online for free with just one click.